HIM Award Ceremony 2022: Revolution in Iran?
The HIM Award Ceremony 2022 in February 2023 was dedicated to the courageous fight for freedom rights in Iran. The HIM Award 2022 was presented to Masih Alinejad in the Helmut-Schmidt Auditorium of Bucerius Law School with great participation of the 400 guests. More information (german) and pictures of the evening can be found at HIM Prize.
Book Release: 'When Russia attacked Ukraine – war victims report'
Putin's war destroys all these values of civilized coexistence. Horrified, we see people dying, we hear of war victims who have fled, been tortured or traumatized. We have talked to some of them and written down their fate in this book. To honor them and record their stories, which put very personal faces on the anonymous war. As little as we can do, we see it all the more as our task to remind with this book also what it is for all of us to defend: a life in freedom, in a democratic country.
The book (stories german/english) is available now as paperback and e-book here
Who we are and what we do
We are a group of socially committed professionals from a broad range of backgrounds. We are based in Hamburg, a German port-city with a long history of engagement with the world. Every member of our team is passionate about supporting human rights beyond our small community. Our mission is to raise awareness and provoke debate on a broad spectrum of human rights issues. We aim to support important causes currently in the public eye, as well as those receiving too little or no attention.
Our Salons and Newsletters feature experts who provide in-depth perspectives on human rights in a variety of cultural and political contexts. Our goal is to facilitate meaningful, personal dialogue that informs, educates and challenges all participants.
Previous guest-speakers and interlocutors include:
Dr. Claus Kleber, lawyer and journalist (HIM Prize 2019 'Finding the truth: Human rights in the digital world');
Prof. Dr. Irina Scherbakowa, founding member of the 2022 Nobel Peace Prize-winning NGO Memorial (HIM Salon 'Putin's War of Aggression and Russian Civil Society');
Christoph Flügge, former judge at the International Criminal Tribunal for the former Yugoslavia in The Hague (HIM Salon 'On the Future of International Criminal Law' 2021);
Dr. Cyrill Nunn, German Ambassador to Iraq (HIM Salon 'Iraq' 2019);
Ahmad Mansour, psychologist and author (Laudator HIM Prize 2018 'Unlearn Hate – How Tomorrow's Peace Can Be Born in Children's Minds');
Natalie Amiri, ARD studio director in Tehran until 2020, presenter and bestselling author (Laudator HIM Prize 2022 'Woman, Life, Freedom – Revolution in Iran?).
Marlehn Thieme, Lawyer and President of German World Hunger Aid
Dr. Ben Wagner, Director of Privacy & Sustainable Computing Lab at the University of Vienna (2018, Salon 'A.I. and Human Rights'),
Prof. Dr. Ruediger Frank at the University of Vienna and Board President of the Vienna Institute for East Asian Studies (2018, Salon 'North Korea')
Frigate Captain Alexander Gottschalk, Navy Spokesperson (2017, Salon 'The German Navy in Libya').
The HIM Award Ceremony 2022 in February 2023 was dedicated to the courageous fight for freedom rights in Iran. The HIM Award 2022 was awarded to Masih Alinejad in the Helmut-Schmidt Auditorium of Bucerius Law School with great participation of the 400 guests. More information (German) and pictures of the evening can be found at HIM Prize.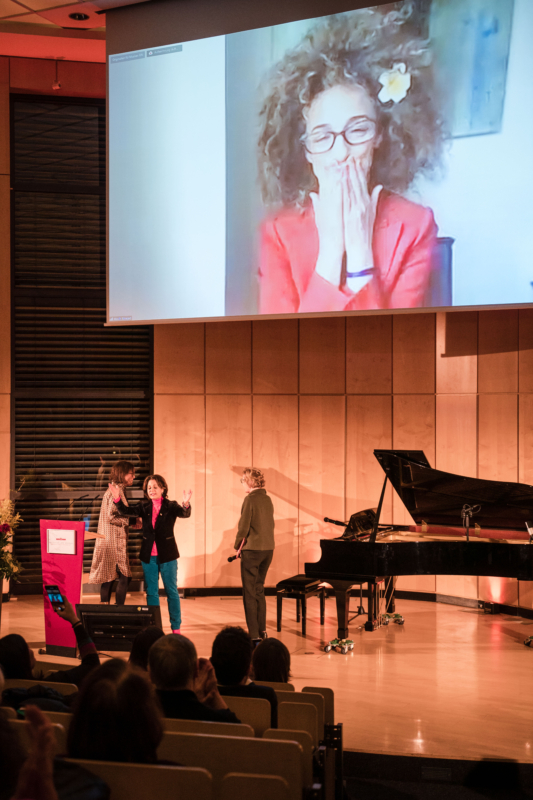 How many slaves work for you? This is the question of the 2021 HIM award winner Justin Dillon and his IT company "FRDM" (which stands for "Freedom") are investigating. His goal is to uncover and combat modern slave labor. For this he received the Hamburg Prize for Human Rights, endowed with 10,000 euros. From the Hamburg's Bucerius Law School, we awarded the prize for the first time live online to the musician, activist and CEO from California.
In times of fake news, it is not always clear whether truths or lies are being spread. In his keynote speech, Claus Kleber reported on his time in the U.S., on the rise and election of Donald Trump, which were accompanied by twisted facts and falsified images. What are assured truths, where do lies and propaganda prevail? And what can they lead to? On this, Kleber quoted the sharp-tongued philosopher Hannah Ahrendt: " …A people that can no longer believe anything can no longer decide on anything…You can do whatever you want with such a people." Authoritarian states like China are proud of such tranquility in their country. And of their economic achievements, which they export to the world via the new Silk Road. They consider the West and its democracies to be a fragile system, doomed. Against this, it is necessary to defend our values. To the motto of the evening, "The truth finds its way," Kleber therefore added the phrase "But not by itself" to his talk. "The times demand commitment," the ZDF anchorman emphasized.
Awards have gone to:
In 2018, the prize was titled 'Unlearn the hate! – How the peace of tomorrow arises in children's minds'. The keynote speech was held by Ahmad Mansour.
Awards have gone to:
Jiyan Foundation (Iraq)
Street Children Aid (South Sudan) Projects
In 2017, Dr. Asfa-Wossen Asserate accepted our award on behalf of three Africa-based NGOs which work to provide education and professional training in Ethiopia and Nigeria.
• PTOJECT-E (Ethiopia) • LikeMinds Project (Nigeria)
• Wild Coffee Project Kaffa, (Ethiopia)
In 2016, we created an annual award to recognize smaller, high-impact community initiatives that directly support people whose lives and human rights are endangered – whether as refugees, political activists, children, or victims of conflict and sexual violence. In 2016 facing the migration crisis we awarded three Hamburg based organizations, who have rendered outstanding services in terms of education, training and professional integration of refugees.
We support a small number of human rights and refugee organizations with direct donations and with mentorship on fundraising strategy, communications and project development. Our support is time-limited, with the ultimate objective of helping them be independent and reach project sustainability.
Currently, we actively support:
• Bettermakers, a video platform which streams content created by high-school students in collaborative workshops about social and political interactions in their communities. A goal of the project is to prevent radicalization and extremism among youth (www.better-makers.de).
• Hamburger Atlas für Flüchtlingshilfe (Hamburg Atlas for Refugee Aid), a constantly upddated, web-based directory of organizations engaged in a broad spectrum of refugee aid. With over 300 clicks per day, this guide has developed into a vital networking tool for professionals, activists and those seeking help regarding social and cultural integration and finding access to basic supplies and services. To find out more, click here.
Past successes include:
• Studydock – Room for learning, a supportive study space for young refugees aged 16 and up, to help them prepare for examinations and apprenticeships
We founded 'Hamburger Initiative für Menschenrechte' (HIM) in 2011, after several years of providing support to Human Rights Watch. In 2012 and 2013, our team worked closely with the Hamburger Stiftung für Politisch Verfolgte (Hamburg Foundation for Politically Persecuted People), a foundation whose president is always Hamburg's mayor, and which supports people who find themselves in life-threatening situations as a result of advocating for democracy, freedom and human rights in their native countries. Hamburg Foundation for Politically Persecuted People enables grantees to spend one year in the safe haven of Hamburg. HIM organized several panel discussions, talks and readings, and an exhibition in Hamburg's historic City Hall titled '5 x Hamburg und zurueck' (5 x Hamburg and back), featuring five Hamburg Foundation for Politically Persecuted People grantees. In addition, we raised funds to provide a one-year extension to the scholarship for Syrian author Rosa Yassin Hassan, who found herself unable to return to her native country. Moreover, we actively supported various projects and initiatives by enhancing communication, exchange and monetary donations. Our activities have steadily expanded in the past years.
The Hamburg Initiative for Human Rights (HIM) is a registered association that exclusively pursues charitable purposes. Your donations and funding go directly into our work and the projects we support. Our office and staff costs are covered by our own membership fees. If you would like to donate for a specific project, please indicate this purpose during the transfer. Your donations to HIM are tax deductible: A simple proof (bank statement) up to 200 Euros – on request and with higher amounts, we also issue donation receipts.
Account/Donations:
Hamburger Initiative für Menschenrechte (HIM) e.V. Commerzbank Hamburg
IBAN: DE 98 2004 0000 0628 6587 00 BIC: COBADEFFXXX
We thank you for your support!